Brand resources
Logo

Our logo is always either white, dark or blue. The IGEMS logo is never shown in other colors.
White logo
RGB: 255, 255, 255
HEX: #ffffff
EPS · PNG
Dark logo
RGB: 37, 37, 37
HEX: #252525
EPS · PNG
Blue logo
RGB: 0, 73, 153
HEX: #004999
EPS · PNG
Safety space
When using the IGEMS logo with other logos and graphic elements, maintain a safety space that equals 200% the height of the rectangle around the logo.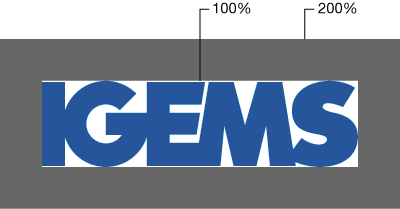 ---
Typography
Typeface
The typeface associated with IGEMS is the Adobe typeface, Sofia Pro. The headings maintain the same color as our dark logo, RGB: 37, 37, 37 or HEX: #252525, while the paragraphs are using a lighter dark RGB: 100, 99, 98 or HEX: #646362.
---
Colors
Primary
Our primary color is a dark blue RGB: 0, 93, 153 or HEX: #004999. It's the same color as our sister company Cadcraft is using.